Off
Sick of wrinkles? face fat? puffiness got you down? Looking older than you really should?
Try this...
Face exercises
are special techniques that can be used to target problem areas with your facial appearance. The beauty of them is that they cost no money to use, unlike expensive cosmetic surgery and many Hollywood celebrities swear by them.
(you can find many facial exercise techniques on this site)
In Ayurvedic medicine, massage and meditation is essential to good health, and the practitioners have been using face exercises for ages, and truly believe that this is one key answer to staying and looking younger.
Most people see the results within 2 - 4 weeks so long as they practice the right routine for their needs every day. It's also something that you can do in your own home, privately, and there is nothing to stop you from continuing a routine until you reach the look that you want.
What Can Face Exercises Do?
Facial exercising
allows you to strengthen muscles and improve the tightness of skin collectively. As a result, stronger muscle definition can mean less area for fat deposits to exist. This also means that your skin will tighten and those wrinkles will smooth away gradually.
Facial exercising is also good for improving circulation and easing tension. Naturally, muscles lose their firmness, and if you exercise other parts of your body you shouldn't neglect your face!
Many well known people have been strong supporters of facial exercises, including Jack Lalanne, Cleopatra, Gwyneth Paltrow & Jennifer Aniston..
Most impressive is the fact that there are
hundreds of face exercises
that you can use to focus on the parts of your face that you are unsatisfied with. They are very cleverly designed and can be as simple as using a specific facial gesture or incorporating both hands to create resistance.
The ancient Indian science (Ayurveda) may be one of the oldest sources of facial exercising (face yoga). They believe that the body, soul & mind should live harmoniously and that working the facial muscles is key to achieving smooth skin and showing your true, inner beauty.


Russian women consistently employ the techniques of face exercises as a means to stay healthy and younger looking.


Because we are consistently bombarded with unnatural light from monitors and computer screens, our faces are doomed to squint more and we are more prone to headaches. Facial exercises are more important now than ever.
They are safe, can be effective and as long as you do them correctly you will have no problem with creating additional wrinkles. But you should follow the guidance of a real expert, that's why I recommend
John Sacratous' Face Fitness Formula
which will teach you all of the techniques and walk you through the Do's & Don'ts of face exercises.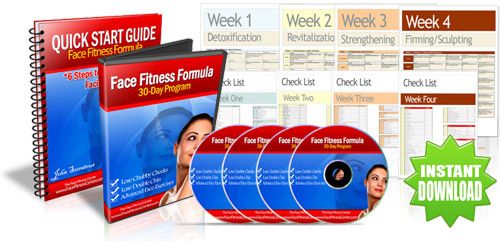 John was an aspiring model who was doing OK in the beginning and getting contracts. But then one day his work seemed to stop. When he questioned what was going on, the sad answer was that he was too fat in the face, even though he was a good looking guy.
He looked into cosmetic surgery but realized that it would cost a fortune and he didn't have the money. He attempted to go through the a-typical dieting process to burn fat in the rest of his body, but nothing changed about his face.
He realized that the fat in the face is different from that of the rest of the body. He spent a complete year in heavy research to find the answer to his own problem. And he did! that's how the program was born, and it delivers some of the most helpful face exercises.